And now it's time to concentrate for the tasting of Haut-Brion. Here we reach the summits both in white and in red.
Mission Haut-Brion
is imposing, opulent, almost baroque. Everything has been done here to conserve a maximum of freshness in the fruit. According to Jean-Philippe Masclef, cellar master and enologist of the property, it has to do with the quantity of sugar to be transformed; With 250 g of sugar to be transformed we try not to shock the yeasts and to work at 25-26 degrees. » 2010 is a dry year and the young vines of Merlot suffered a bit from it. Paradoxically, the highest sugar levels were in the Cabernets. The Merlot were lacking a bit of charm. In this vintage therefore Haut-Brion has an unusual percentage of Merlot (23%) and has gained in density, in precision of texture and in depth. It will be one of the great wines of the vintage. As will the
Haut-Brion blanc
(46% Semillon – 54% Sauvignon), absolutely sublime!
Next, a blind tasting of wines from Pessac-Léognan organised by the UGC at
château Bouscaut
. Many nice surprises in red and a remarkable regularity among the whites.
Some of the particularly remarkable wines of Pessac-Léognan:
Carbonnieux blanc, Domaine de Chevalier (blanc et rouge), Les Carmes Haut-Brion, Haut-Bailly, Smith Haut Lafitte (blanc et rouge), Larrivet Haut-Brion rouge, La Louvière rouge, Malartic-Lagravière rouge, Pape Clément.
The afternoon's beaches are those of the right bank, between Libourne and St.-Emilion. Under an ardent sun. We start with the wines of the maison
Mouiex
. Each year I promise myself to find out the name of the artist whose pictures hang in the tasting room, and each year I forget to ask. It's not an ontological question. One thing is sure – that earthy mist, that autumnal landscape, the plowing and that slow pace have nothing to do with this day, but much to do with the earthy nobility of the Pomerols tasted here.
The wines which I particularly liked here: Bourgneuf, Lafleur-Pétrus, Certan de May, Trotanoy.
At Canon La Gaffelière the wind doesn't fail. Because one must choose I'll underline a Clos de l'Oratoire, never tasted at this level, a Canon La Gaffelière elevated and profound, and the splendour of Mondotte! Now if this isn't euphoria – after all, a wine critic keeps his fogs and his sunshine on the inside – then what?
Tertre Roteboeuf 1985
A bit later in the late afternoon, on a promontory of the hill to the far south of St.-Emilion, after having tasted Tertre-Roteboeuf 2010, the moment we weren't waiting for, unexpected. A gift !
In our glasses, for pure pleasure, to share without commentary or scores, a Tertre Roteboeuf 1985. « The vintage with which we first met. » adds François Mitjavile after bringing the bottle from his cellar.
There's no more hurry, no more schedule, no more projects. Just you and me, on the corner of the promontory glittering over the sea of vines.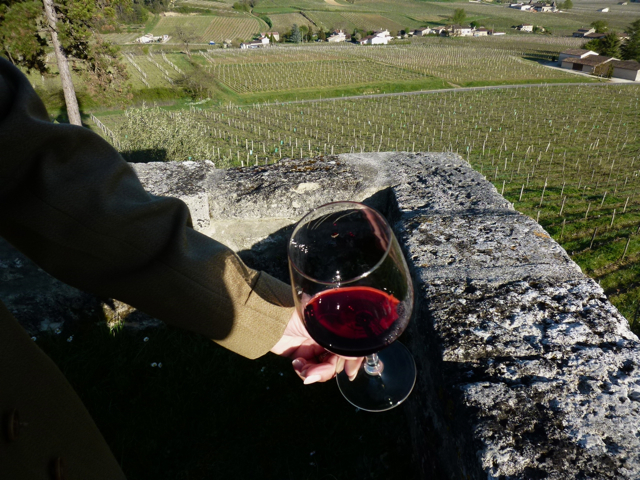 These aromas of truffle and sandalwood, this texture, that infinity and the bell of the nearby chapel which peals its notes at the moment we savour this wine just above the spot where it was born. Everything comes together, pure presence.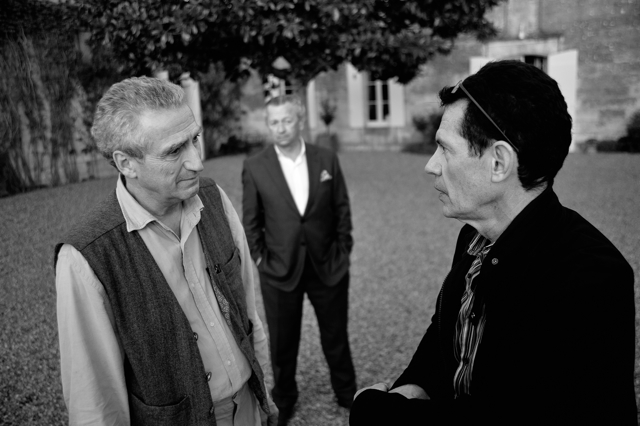 Photo Armand Borlant
Each of my encounters with François Mitjavile is an occasion to pursue the philosophical dialogue begun long ago with this 1985. We would all like to keep the memories of promises and possibilities and to experience the moment of their accomplishment.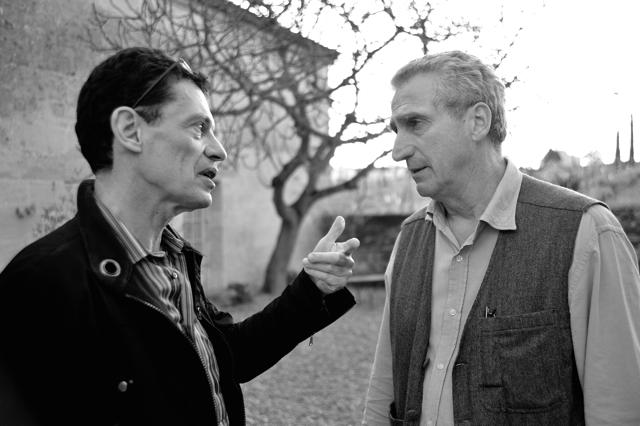 Photo Armand Borlant
Before leaving you a quote from Jim Harrison:
" Lately I've been lucky with the problem of " time ", because I realised that time is not something that passes, but rather it dissolves around us like the fading light of late afternoon…"
The song that dances on these lines: Good Vibrations by the Beach Boys
Many thanks to Armand Borlant and Barry Shapiro !
---
---